By you can email us for a vacation information package
Lake of the Ozarks has been a choice vacation area since the opening of the lake on May 30, 1931. If you have never been here, you just have to try it! And, of course, for you that have been here before, we understand the curiousity that inspires us to return again and again. No one can match our recreation, scenery, and services. There are dense untraveled forests, rolling farmlands, dark gray cedar lined bluffs, and wildlife that surround the nearly 1200 miles of shoreline. The Lake of the Ozarks is about 175 miles from St. Louis and Kansas City, less than 90 miles from Springfield, and 140 miles from Branson, Missouri. You should be able to plan your get-away right here online. This web site was built for you, so if you see an area that can be improved, please let us know by e-mail or our 800 number. We hope to see you this year. If you want to see us right now, there is a web site that has live online cameras that renew every few minutes.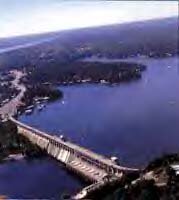 The Lake came into existence nearly 70 years ago through an undertaking known as the Great Osage River Project. Construction of Bagnell Dam began August 6, 1929 by Union Electric. In the midst of the Great Depression, several thousand employees labored day and night to build Bagnell Dam and what was, at that time, the largest man-made lake in the world. Fed by five rivers the lake was opened to the public on May 30, 1931. One of the historic buildings that is closely associated with the construction of Bagnell Dam, is Egan Lodge. Wouldn't you know, everyone calls it Willmore Lodge and it contains a museum, local culture center, and offices of the Lake Area Chamber of Commerce (map to Willmore). Millions of people visit the Lake of the Ozarks each year, so whether you are an occasional visitor, a vacationer, part time resident, or someone who lives here all year, this Lake is "The Place".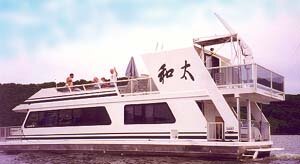 Boating on our lake varies from super luxurious yachts to offshore racing craft; from houseboating to sailing; from rowboat fishing to the fastest of bass boats. Boats can be rented from dozens of marinas, or you can even bring your own. There are many launch areas and docking should always be reserved well in advance of your arrival. Water activities seem to be #1 with our visitors and can include swimming, skiing, jet skiing, waverunning, parasailing, tubing, just floating leisurely on your air mattress in a secluded cove, or, if you have the time, all of the above. And as long as we're talking about water sports, if any lake can be known for fishing, it will be Lake of the Ozarks. You can fish Bass, Crappie, Catfish, or just keep the kids busy pulling out Sun Perch from around the boat docks. You can fish the lake on your own or hire a professional guide service.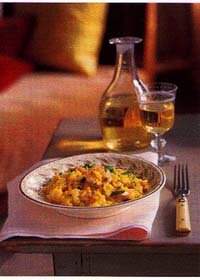 No matter what season it is, bringing that special person to the Lake is the reward hundreds of couples look forward to each year. You can have a great dinner, a couple hours of shopping, and spend the night at a nice motel and not feel like it was a budget buster. There is a hundred or so restaurants (many near or overlooking the water) that you can practice your art of dining and a never ending search for your newest "most favorite" restaurant. You can satisfy any taste; from gourmet foods to quaint little mom and pop roadside restaurants, from continental cuisine, Bar-B-Que, homestyle foods, small bistros, to the forever necessary quick burgers. For many of us, dessert can be a meal in itself. Many restaurants have a signature dessert, so even if you have to eat it later in the motel room, the meal isn't over until the dessert is gone.
Accommodations at the Lake are as varied as the scenery. If you are working in the area and your expense is limited, there are many over-night budget type motels. There are family motels, luxury full service hotels, contemporary high-rise condos with one to five bedrooms, weeklong fishing cabins, and many lakeside family activities resorts. Lake of the Ozarks has an accommodation to fit any budget, any size group, and any taste.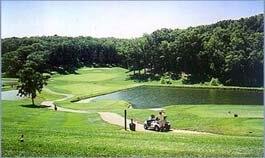 The Lake has become one of the Midwest's premiere golf destinations. Excellent facilities provide nearly 200 holes of championship golf courses carved into our hills. So, when the northern states still have snow, we're playing a round. And when it is too hot to even be outside in the south, we're still hitting that ball.
Summer fun can be a day at the water park or an amusement park. Or you can load up your days with miniature golf, go-carting, helicopter and sea plane rides, excursion boat rides, attending boat races, horseback riding, bowling, festivals, and fireworks. You can even cool off from the sun with a tour of one of the local caves. The Lake has several country music shows that are open nearly every night, from early spring until late in the fall. Some shows are open for Thanksgiving and Christmas.

Three county museums offer fascinating history of the area's famous and infamous past. Mid-Missouri was, and is still, home to several Indian tribes that left a sketch of their art, crafts, and culture to be found in creek beds, camp sites, and burial mounds scattered across the midwest. Missouri was part of the 1803 Louisiana Purchase and even if we count only from then, Missouri has given rise to Harry S. Truman, Jesse James, a beginning point for the Pony Express, and a pathway to Lewis and Clark, Daniel Boone, Davy Crocket, and Zebulon Pike. A very remarkable heritage.


As you can tell, we're not just that lake Mom and Dad took you to each summer. Check out our Calendar of Events as to which festival or what event that you want to see this year. We don't close it up in the winter either. Spending time at the Lake in any season is a treat...summer for the water sports and shopping...the fall for the autumn colors and shopping...the winter for those sneak get-aways and shopping...and the spring for blooming dogwoods, redbuds, and warm spring days (did you think that I would say shopping?).
About the Artist:Carol Palmer, a native of Missouri, is a cartographer by profession and an artist at heart. She and her husband, after selling their mapping business in 1996, began their current venture. They are focusing on selling Carol's pen and ink sketches and water color art which is reproduced in their "Missouri Images" and "Route 66" series of note cards, prints, post cards, and calendars. Carol's watercolors have won top honors in several contests and was awarded a month long display at the Elizabeth Rozier Gallery in Jefferson City, MO. Items are on display and are for sale at the Willmore Lodge and by phone or mail.
The Willmore Lodge web site is a joint effort by the members of the Lake Area Chamber of Commerce and a complimentary hosting by www.odd.net with internet services provided by Advertisnet Internet Services. A special thanks to Ken Carpenter of odd.net and Jay Teutenburg of Advertisnet for their services and generousity.
List of Works Consulted

Carole Tellman Pilkington,The Story of Bagnell Dam,Lake Area Chamber of Commerce,1989
National Register of Historic Places,NPS form 10-900-a,section 7.
Buford Foster,That's The Way It Was,1978
T. Victor Jeffries,Before The Dam Water,1974
AmerenUE,Bagnell Dam Construction Photos,1929-1931
Video Productions Unlimited,Current Photos,1990's

Willmore Front Page